Regular price
$250.00 USD
Regular price
Sale price
$250.00 USD
Unit price
per
Sale
Sold out
🔥Unlock the Secret to Explosive Athleticism: Plyometric Boxes! 🔥
Have you ever watched elite athletes and wondered how they achieved such explosive speed, and instantaneous raw power?
Plyometric Box Jumps are a MUST have ingredient for any and all explosive athletic training and it's time you added it to your training.
the Drop Jump ⬇️ ⬆️: It's not just a jump – it's a revolution in explosive athletic training. Transitioning from lower height boxes to higher boxes and then back through from higher to lower, the drop jump challenges you to rebound vertically using the tendon stretch reflex of your lower legs (including the achilles, patellar reflex and your entire fascial system) focusing on maximum height with minimal ground contact. Think of it as an electrifying bounce 💥
The science of the drop jump is unequivical: the quicker the ground contact, the more dynamic your bounce. The higher the drop height, the higher the stretch reflex required to bounce (given that the athlete has developed the stiffness to counteract the ground reaction force and the tendon stiffness and power to respond to the appropriate height for the jump)
the Depth Jump: The Depth Jump is a masterclass in muscle recruitment and RFD (Rate of Force Development). To resist the forces of the ground contact and recruitment of eccentric muscle contraction to prevent collapse, the athlete must instantly recruit muscles eccentrically at a very fast rate. The higher the height of the drop…. the higher number of motor unit recruitment!

Every athlete has a foundation. What's yours built on? Plyometric training isn't merely an addition to your routine; it's the base.
A base of building elasticity & stiffness.
A base for unparalleled speed and power.
Set of 4 Plyometric Platform Box
Strong, sturdy plyo boxes used in gyms around the world for plyometric and explosive training that is essential for most sports. This brand new plyo fitness box is one of the simplest and most effective plyo exercises that can be performed. Get them and enjoy the fun. The number of exercises you can perform are endless and only limited by your creativity.
Heavy duty Construction
Ribbed Rubber Platform
4 Sizes Plyo Boxes
Simple Installation
Easy Stacking for Storage
Key Features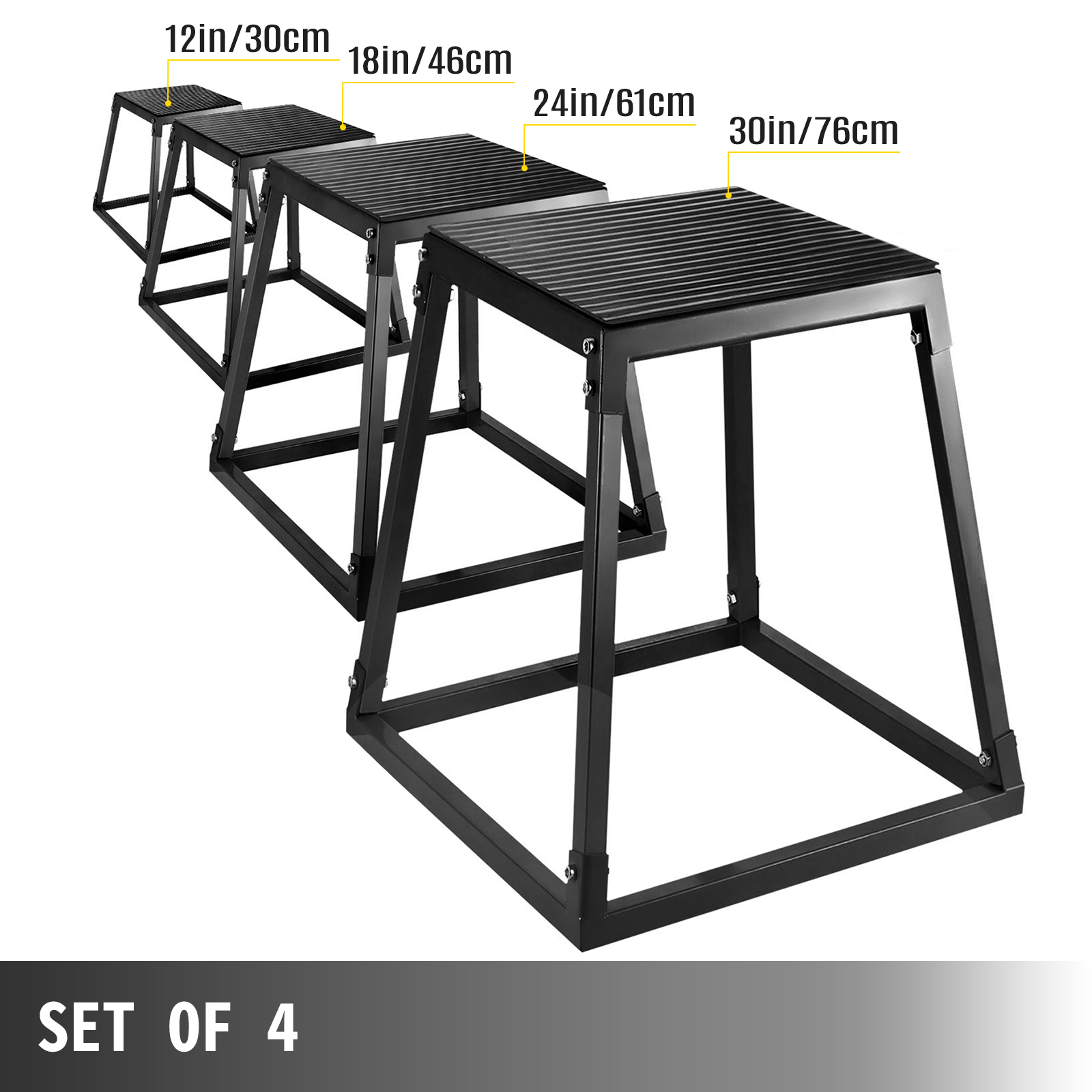 Durable and Stable
Due to the high-quality steel, powder coating, and metal top plate, our box jumps are durable and rust-proof with maximum strength and durability.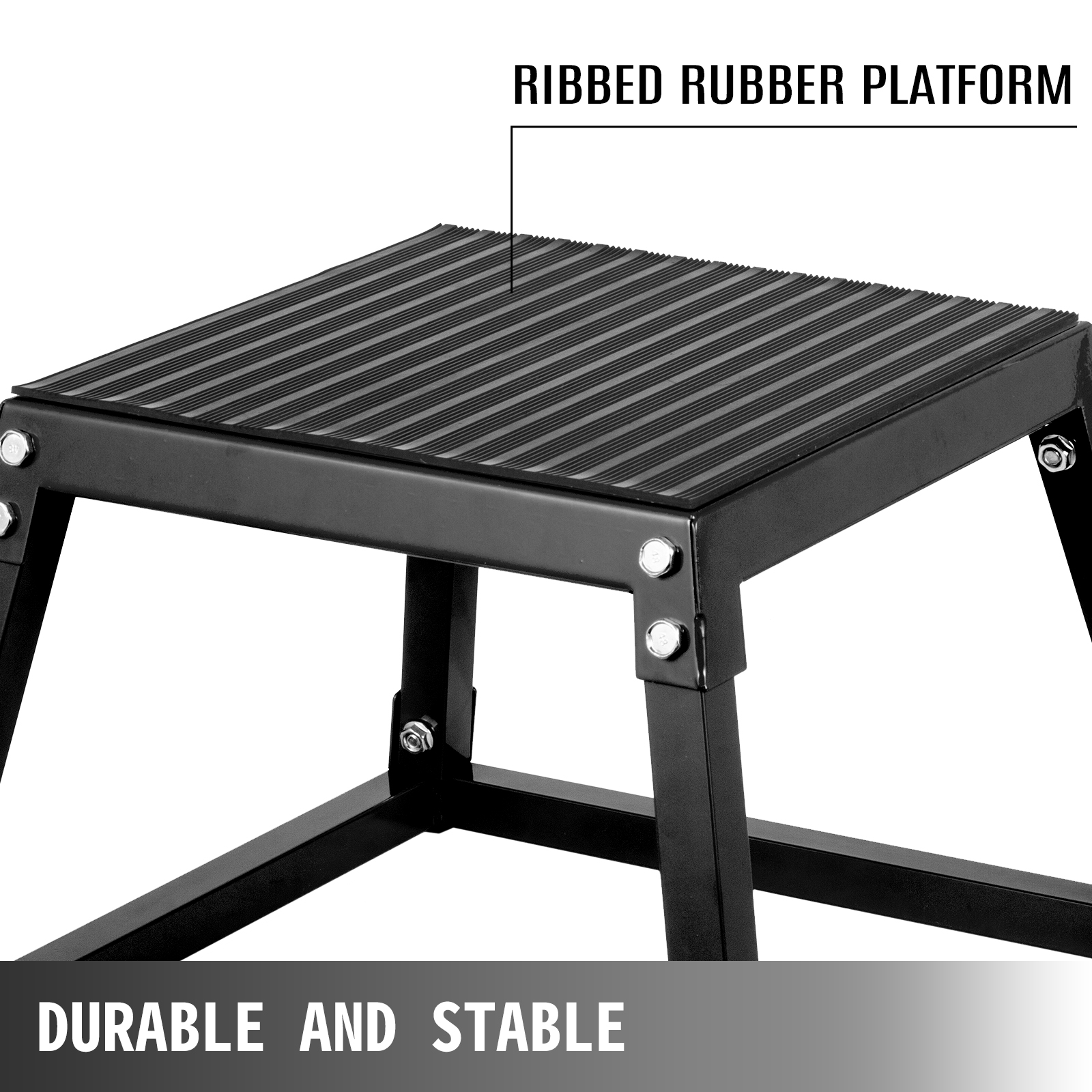 Non-skid Ribbed Rubber Top
Non slip landing pad with stripped shape create a safe environment for training. You can conveniently take them workout outdoors, to the beach and so on.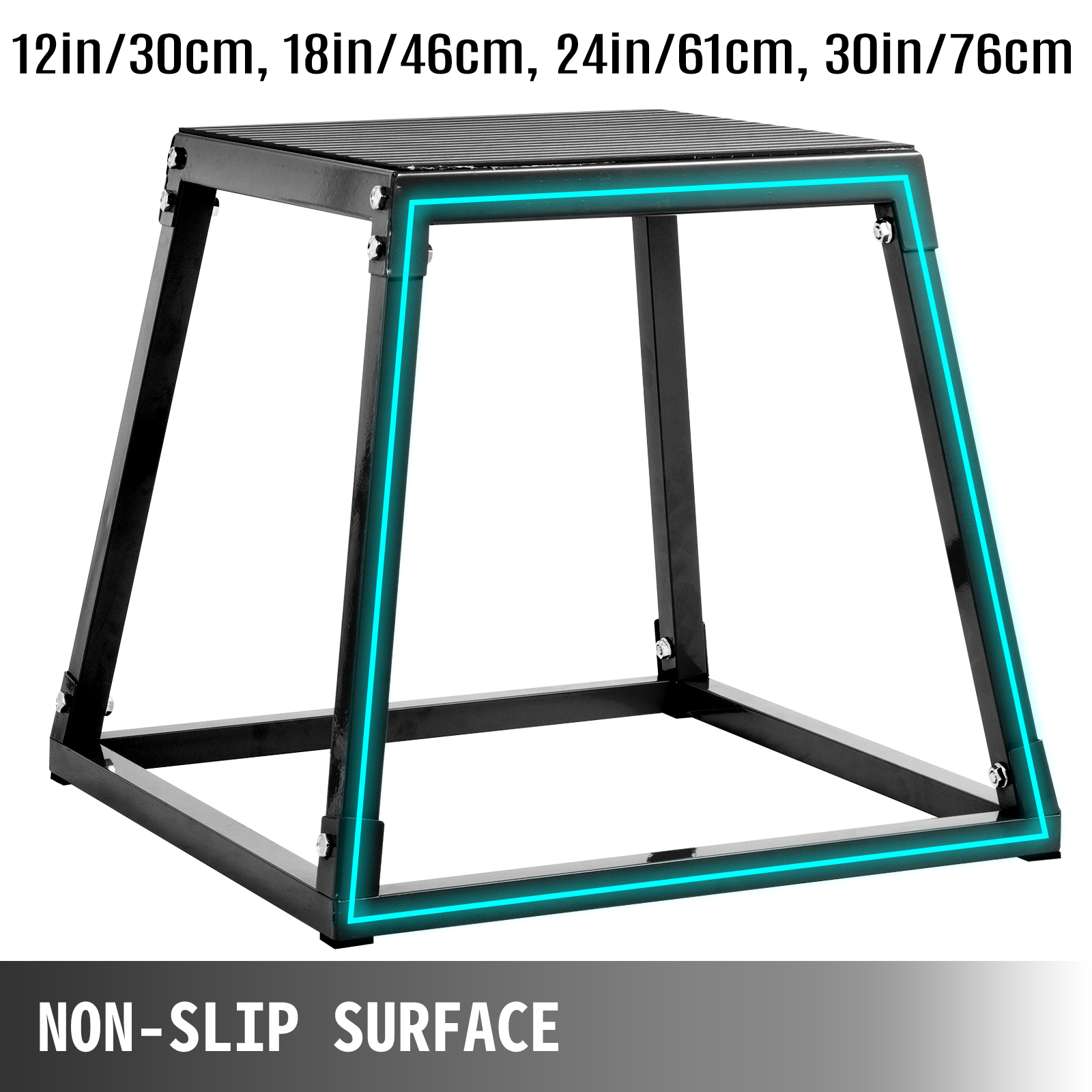 The jump boxes can be easily assembled with accessories. 
Perfect for indoor and outdoor use. Great for both men and women . Can help build overall leg strength, work the core and stabilizers, and burns a lot of energy.
Specifications
Color: Black
Height: 12in/30cm, 18in/46cm, 24in/61cm, 30in/76cm
Size of Top: 320x320mm/12.6x12.6inch, 370x370mm/14.5x14.5inch, 405x405mm/16x16inch, 445x445mm/17.5x17.5inch
Size of Base: 440x440mm/17x17inch, 510x510mm/20x20inch, 575*575mm/22.6x22.6inch, 640x640mm/25.2x25.2inch
Weight: 5.3kg/11.7lbs, 6.5kg/14lbs, 7.8kg/17lbs, 11kg/24lbs
Package Content
4 x Plyometric Platform Box(Separately 12'',18'',24'', 30" High)
Features & Details
Durable Plyo Box: Made of heavy steel with powder coating on the surface, our 4 plyo boxes are durable and rust-proof. The welded part of the frame is firm, durable, and stable under high-intensity training. Recommended Weight Limit: 350 lbs.
Rubber Grip Platform: The platform of this plyometric jump boxes are covered by ribbed rubber; they are anti-skid to keep your posture safe and help maintain a grip on the box landings and prevent injury.
Trapezoidal Structure:Our box platform is a trapezoidal structure, a set of four packages, which are 12, 16, 18 and 30 inches high. The design of upper and lower sections ensures a stable structure and does not occupy space for storage.
Share
View full details